Support Literacy with Laughs When You Get Beano Delivered to Your Door
Teachers have long known that comics are an excellent way to help children to enjoy reading – including the most reluctant readers. They often tell us how beneficial it is for children to spend some Beano downtime – just enjoying a bit of silliness and reading for the fun of it.
With a subscription, Beano is delivered each week, and there are 50 issues a year.
Support Reading Through Laughter
Beano is packed with fun stories, puzzles and jokes. Our artists' striking illustrations and writers' pitch-perfect storylines help guide younger readers through.
This winning combination of words and images sprinkles a bit of magic onto our pages that, for some children, might be the key to unlocking challenges with comprehension, spelling and vocabulary.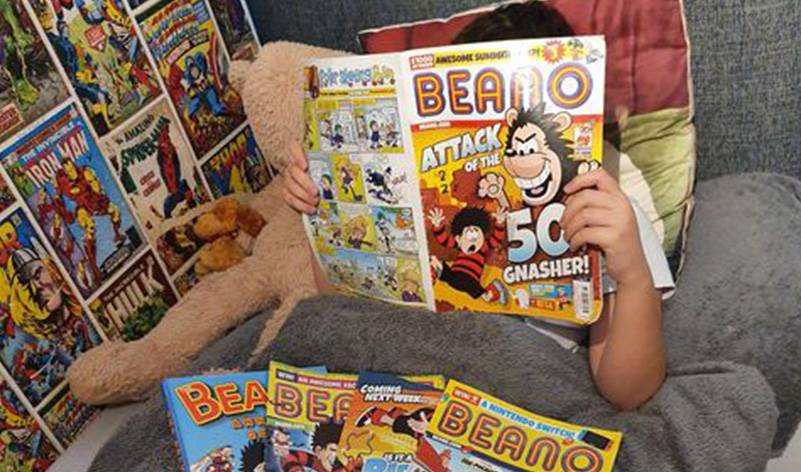 Relevant stories for today's kids, characters new and not-so-new and a generous helping of fun make Beano comics a great read for kids aged 6 to 12 (and we know lots of people, older and younger, who enjoy it too).
"Beano provides a different sort of reading, where the audience rely on illustrations and dialogue; visual sequences make more sense to many of our students than straight text," says Mrs W., a school librarian based in London.
Parents Share Their Children's Reading Progress
Many parents have shared their experiences of their child's reading journey. "My daughter reads Beano from cover to cover when she gets it," says parent Helen. "It's something she looks forward to every week and I love the fact she's learning to read a different style."
"My son Ben loves the Beano because it is something especially for him," adds parent Kate. "He says it is adventurous, silly and a little bit rude! Mum and Dad love it too because it's really helped to encourage a love of reading."
As well as its weekly comic and packed schedule of annuals and specials, Beano has also launched a series of Boomics, regular-sized paperback books with copious illustrations and a low word-count.  (Boomic = book + comic.) The artwork is an integral part of the storytelling to help readers move on to a prose format.
In our comics and books, the storylines help readers understand skills like building resilience, managing emotions, dealing with stress and coping with change.
"Beano has really captured the imagination of my youngest son and has propelled his reading skills at a really key age," says parent Amy, a mother of two boys. "He has not been engaged by early reader chapter books in the same way as my eldest son, but the comic strip style of the Beano suits his reading style much more."
Subscribe and Have Beano Delivered to Your Door
With a significant saving on the shop price and delivery included when you have it delivered to your home, a Beano subscription makes sense.
Subscription is the cheapest, most convenient and quickest way to get your hands on the world's longest running weekly comic.
It's a weekly treat for your family and might just help foster a love of reading that lasts a lifetime. Start a subscription today with your first three months for £33!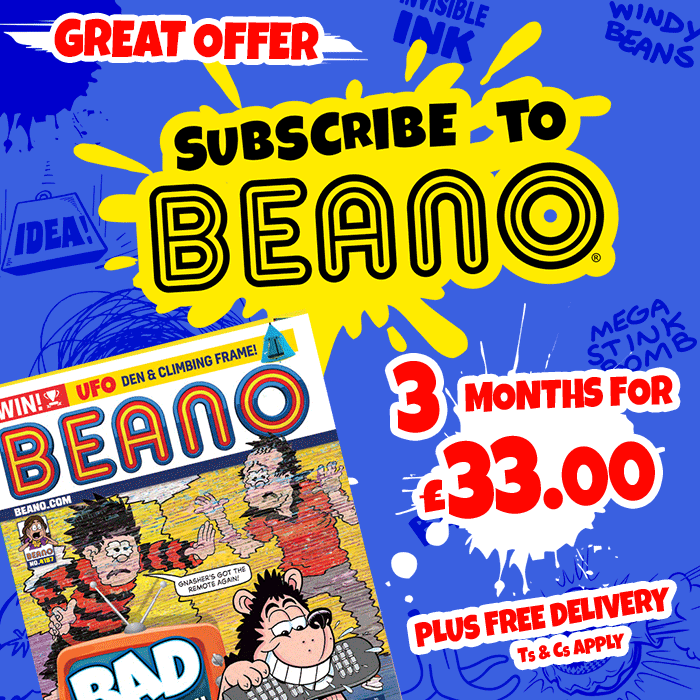 Join tens of thousands of other parents and carers who subscribe their child to the Beano comic and get your first three months for £33. (New, UK Direct Debit subscribers only, see full details at the link.)
---