BUILD-A-BEANO - PERSONALISED SEARCH & FIND BOOK
The ultimate personalised children's search and find book from Beano
Perfect for kids of all ages, Beanotown Search and Find makes YOUR CHILD the hero of a thrilling Beanotown adventure! This high-quality premium book is an official Beano product kids will cherish – and the perfect thoughtful gift.
This is your chance to make any child one of the Beano greats. Dennis and Gnasher, Minnie the Minx, Bananaman… and now YOUR CHILD! This new adventure will see them fighting to save Beanotown from those gruesome goons, General Blight and Doctor Gloom.
Let any kid live their best Beano life – they'll travel to Beanotown, assemble an army of comic heroes, and send Blight and Gloom packing!
Make a unique kids' book personalised with a name and comic character plus your gift message inside
Beanotown Search and Find lets you create and name a personalised comic character to be the star of an all-new 32-page adventure. Kids will love searching for themselves amongst the familiar cast of Beano comic favourites! Plus you can include a personal gift message that will appear inside the book, so they'll always remember who gave them this awesome present!
Personalised search and find comic story book: Beanotown Search and Find
Beanotown Search and Find combines a thrilling comic adventure with fiendish search and find puzzle pages set in Beanotown! There are loads of things to find, and even more to laugh at!
Kids learn how to draw their comic alter ego!
They'll laugh at our Beano-larious jokes, selected just for them!
Test their comic knowledge by trying to name more than 250 characters in our mega Beano challenge!
When 

they complete their

mission, they'll

receive a certificate, signed by Dennis and Gnasher!
Why buy a personalised search and find book from Beano?
Beano has over 80 years' experience making the world's longest-running weekly comic. Combine this with the wonders of the latest personalised story book technology for kids and we can allow anyone and everyone the opportunity to star in their own custom Beano search and find book.
This is a thoughtful, personalised, unforgettable gift with wow-factor. Create a comic superstar. Become the latest, greatest Beano editor. Build the greatest Beano search and find book of all-time now!
What our customers say about Build-A-Beano:
"He was so happy to see his name on the front."
"I didn't know there was going to be different activities in there. Like the drawing of himself and the wordsearches too."
"I know he'll go back and read it over and over again."
"It's extremely good quality."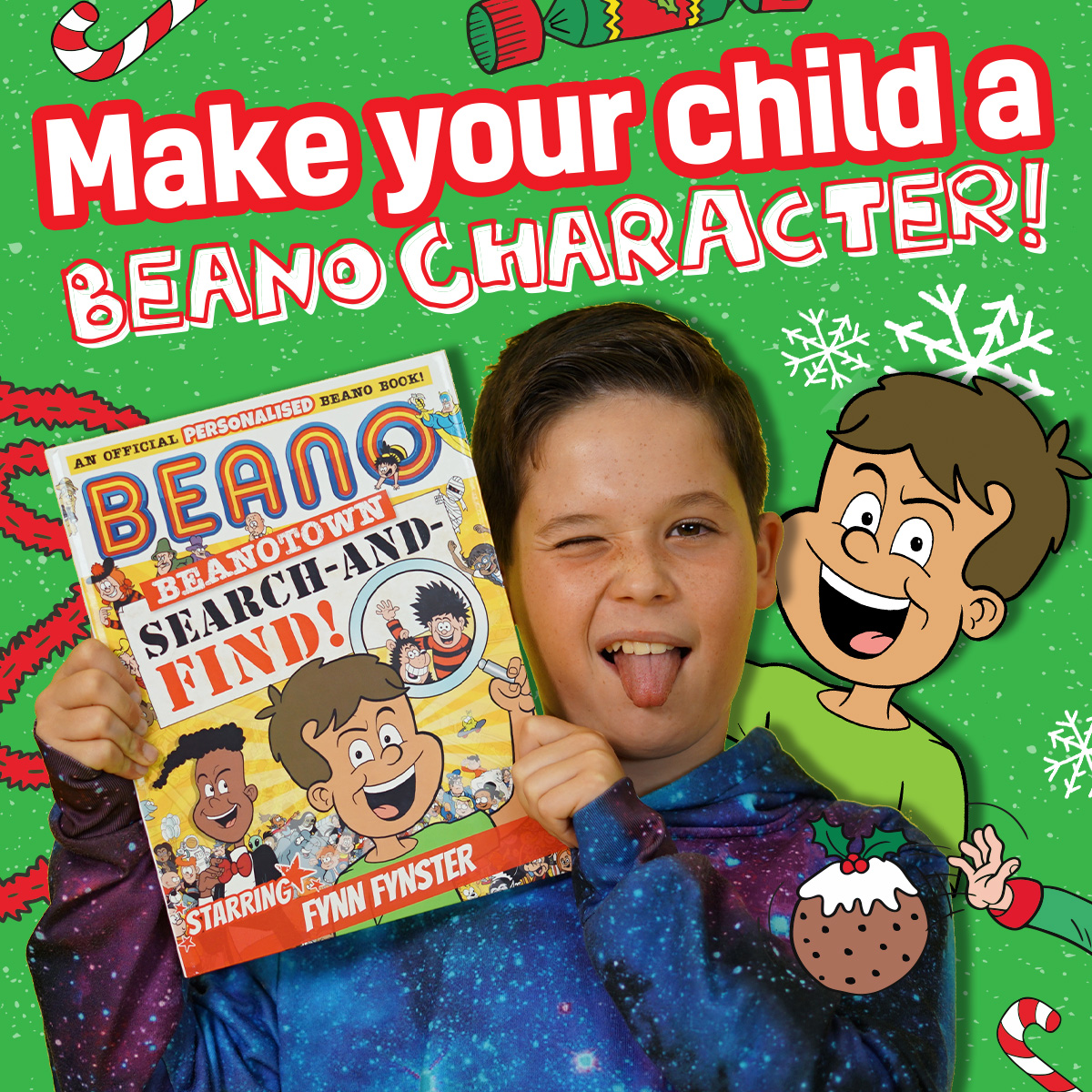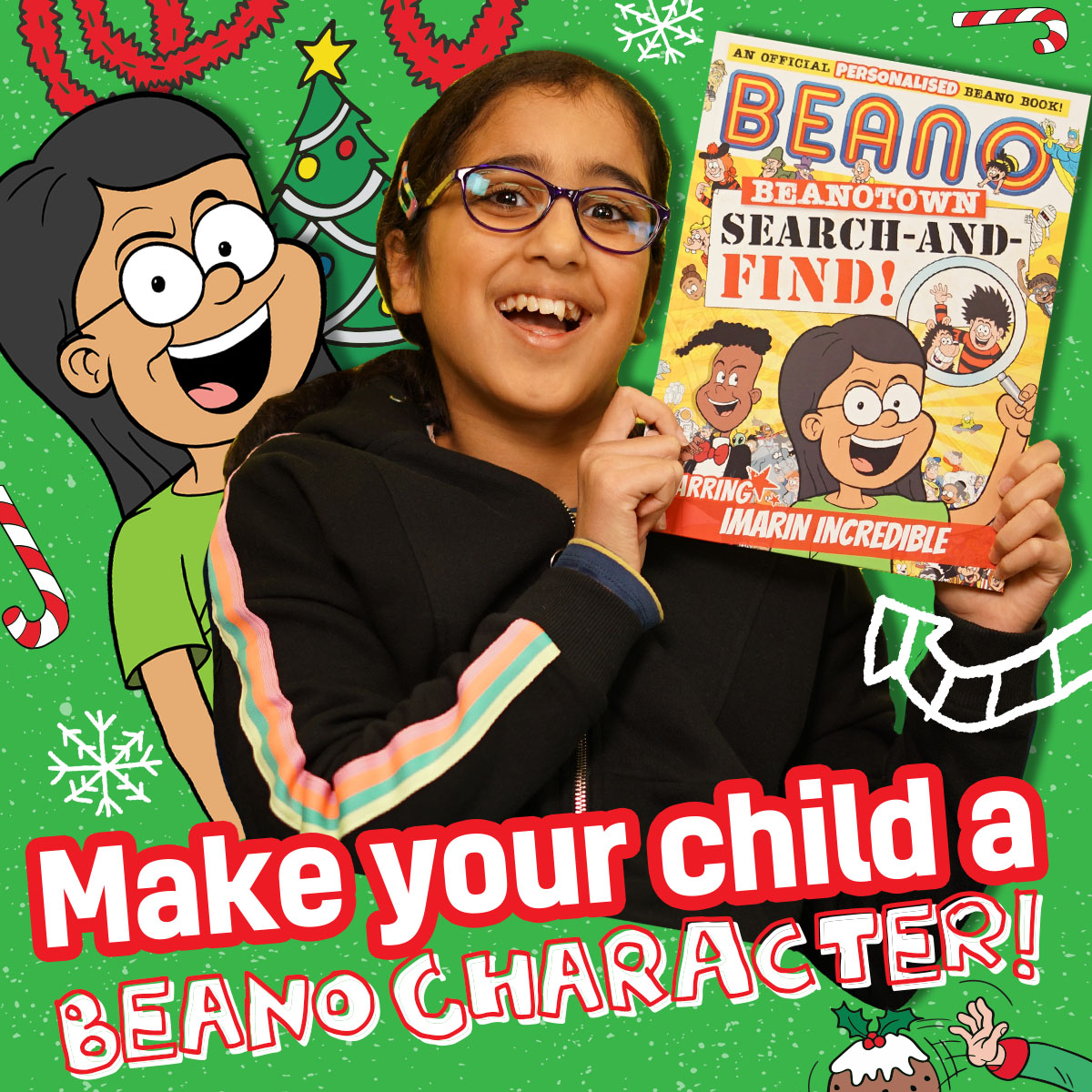 32 page adventure.
Printed in vivid, vibrant colour on high-quality paper.
Available in Classic Hardback (same as our Beano Annual)
Each order is custom made so please allow up to 7 business days (UK) to receive this item.
All personalised items are non-refundable unless faulty.
Your text will be printed exactly as you have entered it, so please double check spelling, punctuation and capitalisation.
This product is only available via the website. You will not be able to place an order for this product via Customer Services.